Testimonials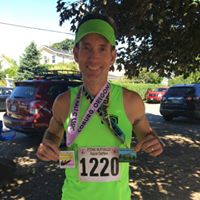 James Wilson, age 52
Wanted to thank your whole staff and Jesse. Because of your treatment, I was able to finish my first marathon at the age of 52 yesterday.

Thank you so much!!






David Sherman: Collegiate Steeple Chaser age 21
"When I first arrived at the Eugene PT clinic I was injured and was unable to get healthy for a long time. At the time, I was dealing with lower back stiffness and achilles soreness. After just 3 weeks I was able to start running again, and soon after that I was pain free. I did this by doing a few specific stretches, exercises, a mix of light running, and aqua jogging in the pool using the AQx training program. I had no idea in this short amount of time I would be able to start running again and getting back into shape. I owe all my thanks to Jeff Giulietti for helping me become healthy and running again."


Michele Atkinson: 1/2 Marathoner age 27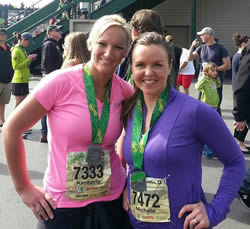 For my entire life, I believed that I would never be a runner because I have flat feet which made me prone to shin splints. While playing sports as a teenager, I went to physical therapy to ease my shin pain, but they never helped me believe that my problem was treatable. I spent my 20's believing that I could only run a few miles, no more than once per week, before the pain was too much. In 2010, I set a goal run a half-marathon but quit a few weeks into training when my shin splints flared up. I never gave up on that goal, so in 2013 I came to see Jeff Giulietti at Eugene Physical Therapy before attempting the Eugene Half-Marathon. I thought he was going to help ease the pain like in my last PT experience, but his approach was completely different. He told me that having flat feet does not mean I am destined to run in pain, but that I need to learn how to run correctly. After only a few sessions with Jeff, I was already running 5 miles with zero shin pain. A few months later, I crossed the finish line at Hayward Field after completing 13.1 miles pain free, and I am already looking for the next race. Jeff changed my entire running experience. I never thought I would be able to say this – but now I love running!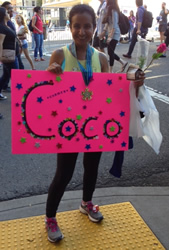 Carmen Rivas, Marathoner, age 36
Hi Jeff,
I met you back in June through the ERC where you generously offered your time to review my running form and help me out with some knee pain. I was training for my very first marathon and had never run so much before. You gave me exercises to do so that I could strengthen my glutes and lower back. After taking a few weeks off from running to build strength, I kept doing those exercises while continuing with my training plan. I finished the Portland Marathon last week and came in at 4:52!! I didn't have any knee pain or issues during or after the race. I couldn't have completed the marathon training without your skill in recognizing that I needed to focus on strengthening other areas.
Thank you very much!!!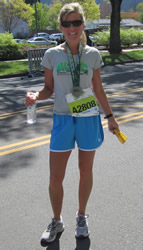 Tammy Denouden: Marathoner, age 40
"I have no knee pain and I got a huge pr at 3:59. I kept my new gait the whole time! Thank you Jeff for helping me fix my bad form, which fixed my knee!!"


Katrina Stewart: age 41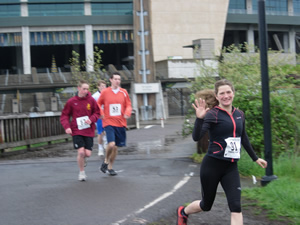 After many weeks of debilitating pain and numbness in my right shoulder, arm, and hand, I was persuaded by my husband and friends to seek help from Jeff Giulietti. To my great surprise, he quickly diagnosed the source of the problem as my neck, with a major cause being years of poor posture and general weakness that had set me up for injury. Jeff's good care has enabled me to correct my posture, learn how to resolve pain before it becomes troublesome, and to become strong enough to do the things I need and want to do in my daily life. I am thriving physically for the first time in years! And a huge bonus is that with Jeff's encouragement and guidance, I have started running, which I find an absolute joy! I've run a couple of 5K races so far (my 5K time: 25:12), am planning to run my first 10K race in a month, and I am training towards the Butte to Butte this summer.

Ian Doremus: Hood to Coast runner age 45
"On February of 2004 I had arthroscopic surgery on my left knee. Specifically a lateral release and micro-fracture. I started my Physical Therapy with Jeff Giulietti soon after my surgery. Working with Jeff I was able to start running in twelve weeks and successfully complete the Hood to Coast Relay race in August of the same year. Working with Jeff gave me the tools to recover my strength and mobility and the confidence to meet my goals. "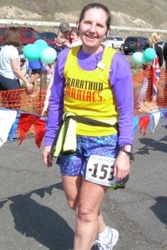 Cyndie Mertin: Marathon "maniac # 90" age 53
After literally years of foot trouble while running, I finally reached out for help. Jeff Giulietti was there for me both physically and emotionally while I took time off from running and worked with him. He clearly grasped what was amiss with my body and provided exercises, support and education that got me back on the road for my 113th marathon. Thank you, Jeff.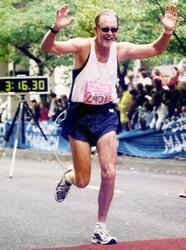 Michael Caley: Marathoner age 63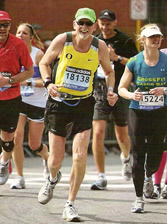 "As an aging runner, with an arthritic knee, I needed help if I was to continue my marathoning career. Jeff provided me with a therapy and maintenance program to strengthen and protect my knee. That program has allowed me to recover, continue training for my marathon, and complete it without knee pain -- and hopefully many more to come in the future."




"Older, slower, still enthusiastic…26 mile mark 2011 Boston Marathon…Thanks Jeff"